WHERE IS CACTUAR.
Final Fantasy 16, Square Enix's 2023 major entry in its world-famous fantasy RPG series, has been praised by critics all over the world. Even though the game has more action than many of its peers and has gotten mostly good reviews, it's not perfect like no other game.
One of the many problems with Final Fantasy 16 is that, even though there are a fair number of different enemies, some of the most famous enemies from the series are missing, even though they would fit in well with the world of Valisthea.
Basilisk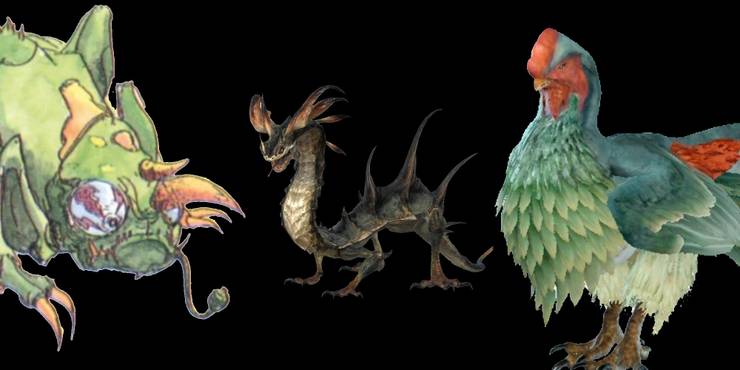 Basilisks have been in Final Fantasy games since the beginning of the series. They are not in Final Fantasy 16, but they are in Final Fantasy 5, Final Fantasy 8, Final Fantasy 11, and Final Fantasy 13. Between the first Final Fantasy and Final Fantasy 9, Basilisks look like big chameleons. In Final Fantasy 10, though, they look a little different.
Basilisks look more like snakes in Final Fantasy 10, Final Fantasy 12, and Final Fantasy 14. They are more like their peers in other media in these games. In Final Fantasy 15, Basilisks look a lot more like roosters, which is more like how they are shown in some myths.
Sahagin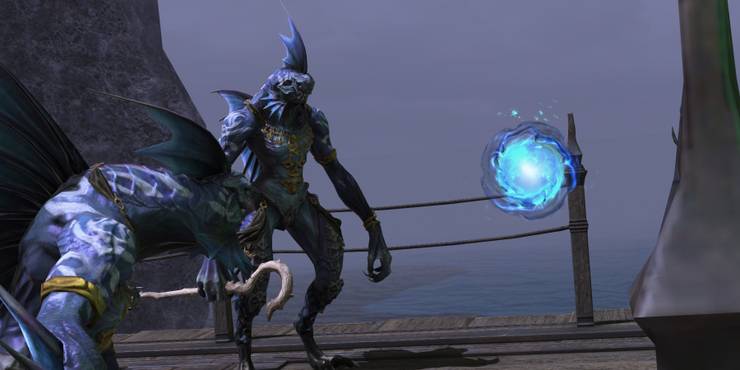 The Sahagin are a race of aquatic humanoids who first appeared in the first Final Fantasy. Since Final Fantasy 16's world of Valisthea doesn't seem to have any other real races besides humans, it makes sense that they would be left out, even though they have been in most of the mainline games.
Most of the time, the Sahagin have been humanoid fish people who can walk on land but are better in the water. However, in Final Fantasy 9 and Final Fantasy 15, they are humanoid turtles and crocodiles. In Final Fantasy 14, most Sahagin are still enemies of the other races of Eorzea. However, a small number of Sahagin want to change their relationship with the other races.
Death Claw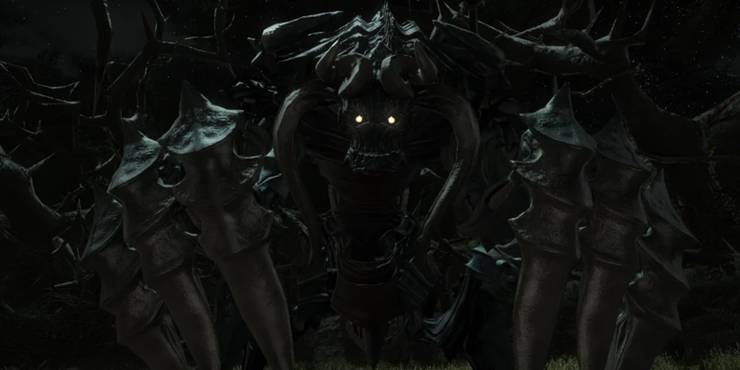 Not to be confused with the Deathclaw enemies from the Fallout series, which have the same name, these horrifying creatures with many limbs first appeared in Final Fantasy 3, where they can split in half when hit with any weapon other than a katana. The last time someone saw a single Death Claw was in Final Fantasy 15, during the Breath of the Glacian quest.
In most games, Death Claws look like multi-legged insects, but in Final Fantasy 8, they look more like deformed bears. This is because the game was changed for a different language. In the original Japanese version, these enemies are called Wild Hooks and have nothing to do with each other.
Goobbue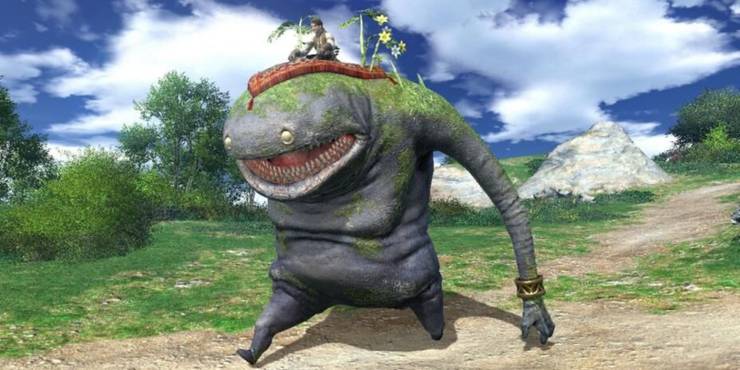 Goobbues are big plant-like enemies that only show up in MMOs. They only appear in Final Fantasy 11 and Final Fantasy 14, which are both MMOs. At first look, these mountain-dwelling creatures may seem harmless, but when they get angry, they can be a terrifying sight when they show off their many rows of razor-sharp teeth and huge strength.
Goobbues can stop, immobilize, and paralyze players through fear by using the different skills they have. For the last one, all they have to do is stare at their target. Goobbues can be mounted, like many other enemies in Final Fantasy 14, so you can use them to move around if you want to.
Bandersnatch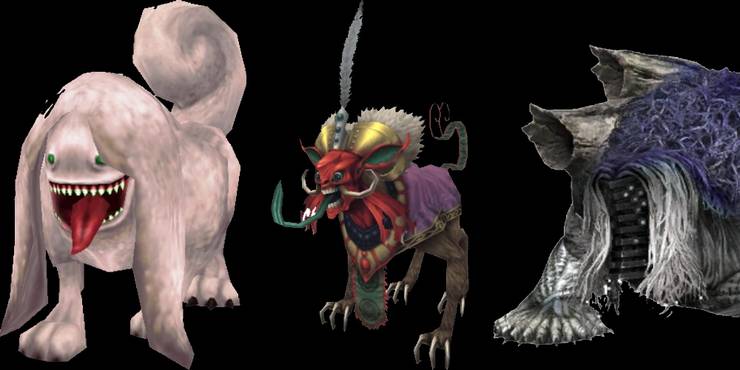 Even though there are some changes between games, most Final Fantasy enemies look pretty much the same from one game to the next. But some enemies, like the Bandersnatch, look very different in each game they appear in, with only a few parts that are the same.
Even though they look different, Bandersnatch are always seen on all fours. This is a throwback to their first appearance in Final Fantasy 5, where they were simple animals that looked like lions and had big tusks on the bottom of their jaws. In Final Fantasy 9, they look like weird demonic dogs. In Final Fantasy 7: Crisis Core, they look like mammalian Oni. And in Final Fantasy 13, they are blue-haired, pale-skinned monsters that are almost impossible to describe.
Tonberry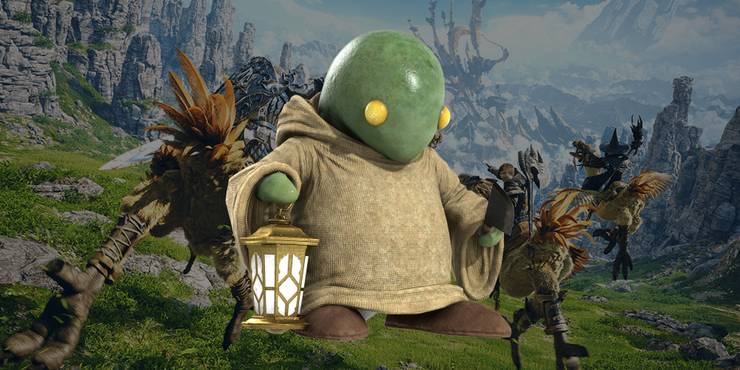 These robed lizards with lanterns first appeared in Final Fantasy 5, which many fans call the "black sheep" of the mainstream series. They are both cute and scary. Even though they don't look dangerous, Tonberries can kill party members quickly with their knives, and they're not easy to kill either, since they have a lot of health.
Tonberries were last seen in Final Fantasy 7 Remake. They can still kill party members quickly with their knife, but they will be stunned for a short time if any party members manage to avoid their attack. These Tonberries can also briefly stun enemies, freeze them in place, and use a counterattack that kills the person who did the most damage to the party.
Cactuar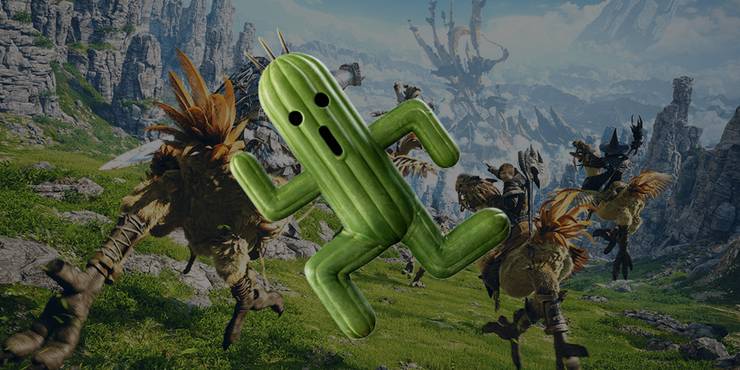 These silly plants with minds first showed up in Final Fantasy 6, which was the most popular game in the series during the Super Nintendo era. Since then, they have become one of the most famous enemies in the Final Fantasy series. In every game they're in, Cactuars are tricky enemies that give you good rewards when you beat them. They also come in different sizes and shapes.
The last time needle-spraying enemies were seen was in the first part of Tunnel Rush, but only in Chadley's Combat Simulator. They were summoned by the Fat Chocobo during battles. If you have the Cactuar Materia and have it equipped, you can also call a Cactuar.
Mindflayer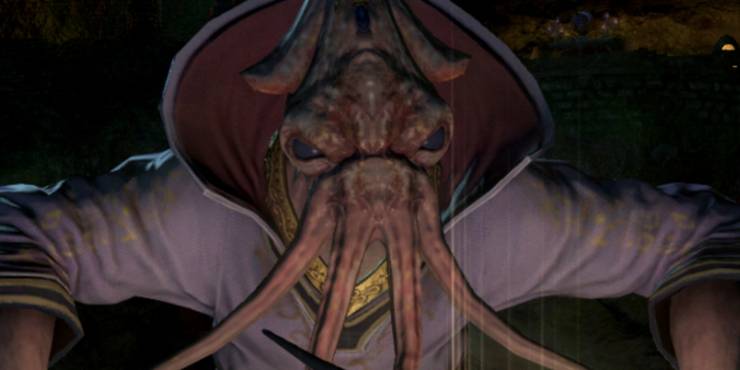 Mindflayers have been around since the first Final Fantasy. They are based on a creature from Dungeons and Dragons with the same name. They have been both enemies and summons over the years, most recently in Final Fantasy 15. Mindflayers are also spellcasters who can use different powers to slow down their opponents and make it easy to beat them.
Mindflayers are like other magical enemies in that they can have different skills depending on the game. In the first Final Fantasy, they have the ability to paralyze the whole party and kill each member of the party quickly, which is a skill they always have in some form.